The Ride of Silence 2022 in Frankfurt am Main was held on May 18th. About 60 riders gathered at Alte Oper to commemorate and mourn cyclists hurt or killed in traffic.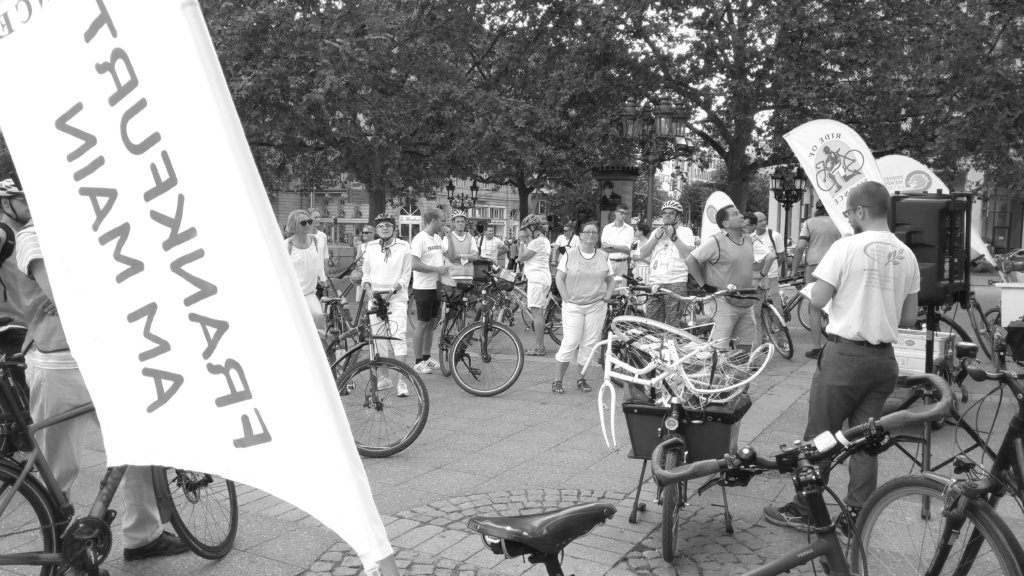 Many hurt, but luckily no deadly incidents
To start with, the good news: Last year no cyclist was killed in Frankfurt. After 2009 and 2014, 2021 was one of the few years without a deadly accident involving a cyclist. Despite the many measures taken by the city though, there were still many hurt people, some badly. Unfortunately, at the time of writing the final statistics for traffic accidents in 2021 hasn't been published, so we do not know exact numbers.
Silent remembrance at four accident locations
The ride led us to four locations where accidents had happened; the ride stopped at each one to remember the victim and the accident. In addition, we observed a moment of silence. The locations visited were the intersection Gutleutstraße/Hafenstraße (Petra, accident on 01/08/2015), the intersection Taunusanlage/Junghofstraße (cyclist, 57 years, accident on 26/09/2019), Campus Westend (cyclist, 27 years, accident on 18/08/2018) and Fürstenbergstraße (cyclist, 78 years, accident on 24/08/2018). The accidents were different in their specifics, but the same in their tragedy. Wrong or missing infrastructure, or reckless drivers – every time a human died needlessly.
Visible memories
As a visible sign for motorised violence, we were accompanied by the first ghost bike put up after the horrible accident on Oskar-von-Miller-Straße on November 21st 2020. Back then the driver of an SUV ran over one cyclist and two pedestrians with reckless force. The cyclist and one pedestrian died.
A few months later, another accident happened at exactly the same spot, luckily without fatalities. During this accident the ghost bike was badly damaged, though. During the Ride of Silence 2021 we put up a new ghost bike; since then the bent and broken first ghost bike serves as a visible reminder.
What happens next
The Ride of Silence will also happen in 2023; hopefully on the standard date, the third wednesday in May (17/05/2023). We hope that next year we can celebrate another year without killed cyclists and "just" serious and other injuries. Traffic is not fate, safe and unsafe infrastructure and technology are made by humans. We want to live in a world where there is no more need for a Ride of Silence. And until then, we continue on, every year, and remember the victims.
We thank all participants as well as the police accompanying the ride.