Why was Oeder Weg redesigned?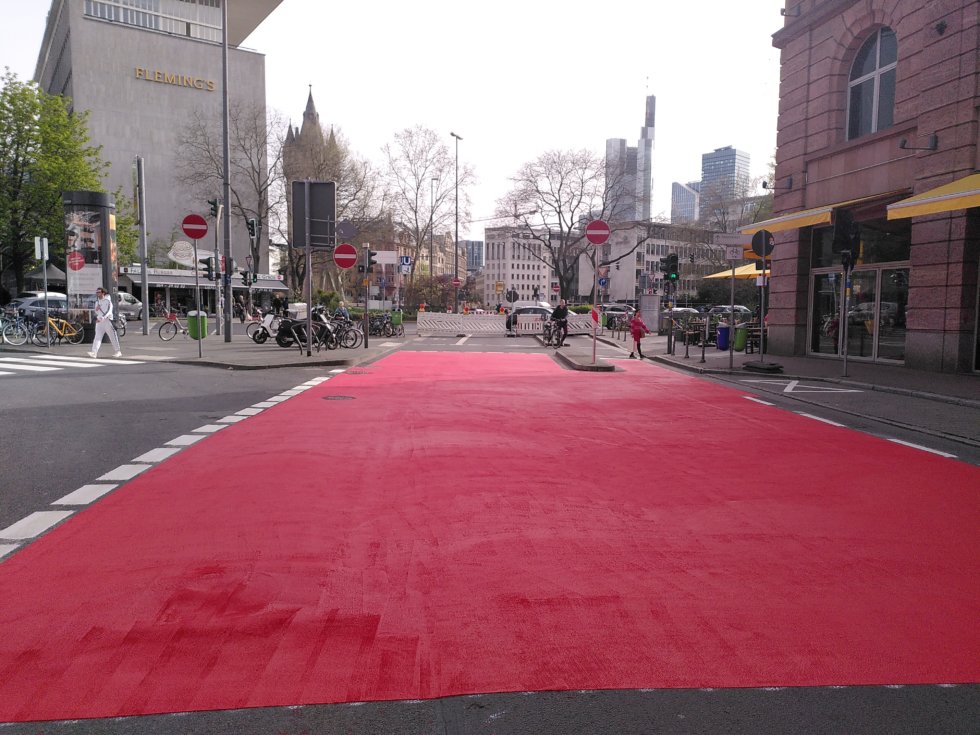 The city redesigned Oeder Weg because it was included in the resolution "Fahrradstadt Frankfurt am Main" from 2019. We negotiated this resolution with the city in 2019, carried by the almost 40,000 signatures we had collected from you back then.
We want to have Oeder Weg redesigned because it plays two important roles. On the one hand it is an attractive route for cyclists going north or south, as an alternative to the main streets Friedberger or Eschersheimer Landstraße. On the other hand it's an important shopping street for the Nordend, with many small shops, cafés and restaurants.
So far cars were dominant and very visible on Oeder Weg. There was no cycling infrastructure, and pedestrians had trouble. A redesign following the principles of the "Frankfurter Fahrradstraße" improves safety for cyclists, comfort for pedestrians and livability. This way, all users of Oeder Weg gain something – residents, shopkeepers and people just moving through.
What happened?
The municipality undertook a variety of measures, most of which are only provisional:
The street was designated as a "Fahrradstraße" (a standing term from German traffic law). This has a few different consequences summarized in this article. Our highlight: you're always allowed to ride two abreast!
Intersections were marked with red paint. This puts an emphasis on cyclists at these crucial points (intersections are accident hotspots) and symbolically underlines the priority of bicycle traffic on this street.
The so-called "dooring zone" was newly marked off, to show cyclists not to ride there. Careless car drivers opening doors frequently cause serious accidents. Unfortunately, some cyclists misinterpret this new marking as a new, very narrow cycling lane. This is incorrect! Please ride in the center of the street, with at least 1.5m distance to parked cars.
At the intersection with Holzhausenstraße a so-called "modal filter" was put in, forcing car drivers to turn left, but letting cyclists and pedestrians through. This way, through traffic is filtered out of Oeder Weg. In the medium term, the filter is supposed to be redone with more green space and increased sidewalk space, creating an attractive space to relax and spend some time.
Some of the existing parking spots were designated as new spaces for outdoor seating for restaurants and cafés; the businesses have already seized the opportunity with individually designed street furniture.
Soon, the municipality will put up new large planters to increase green space on the street. Unfortunately, there are currently problems with the delivery of those, as far as we know.
Some of the remaining parking spots were designated as delivery or short-term parking. This ensures that delivery vehicles as well as customers more easily find parking.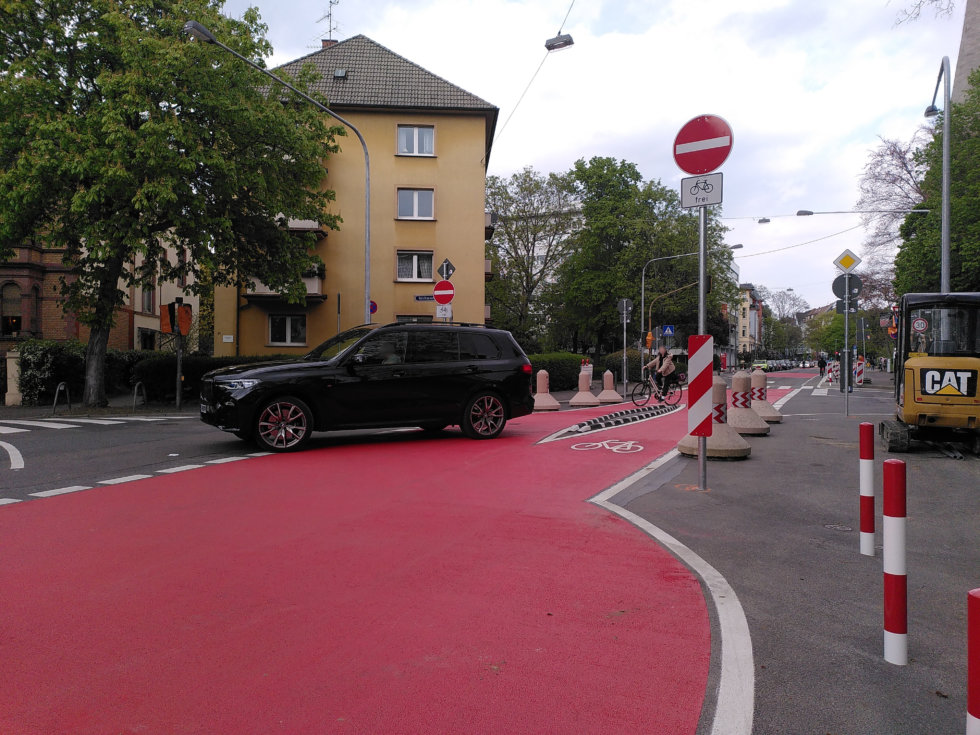 Are we happy?
Generally: yes! We are very happy that the municipal administration and assembly as well as the Ortsbeirat 3 all took a chance here; especially the modal filter is new for Frankfurt, and we are very happy about the trial here. However, we have to be clear: the current measures are provisional – paint and bollards. The redesign is a first step, in the medium term the city has to make the changes permanent: relocate curbs, create buffers at intersections, design new squares.
We especially see more potential for pedestrian accessibility, which is difficult to realize without comprehensive permanent measures (such as lowered curbs, etc.) – so something has to happen soon. In a few cases, bollards were positioned poorly, so that people with vision disabilities might have trouble.
What happens next?
Despite the measures only being a few days old, the media is already full of wild (and probably incorrect) speculation about its consequences, especially concerning business revenues. The fact is: in all cases we know of, revenues stayed about the same or even increased. Over the summer, car traffic will decline, and new delivery and short-term parking spots will mean that delivery drivers and customers will quickly find parking (should they choose to come by car). The measures on Oeder Weg have to be left in place for at least a year before any conclusions can be reliably drawn.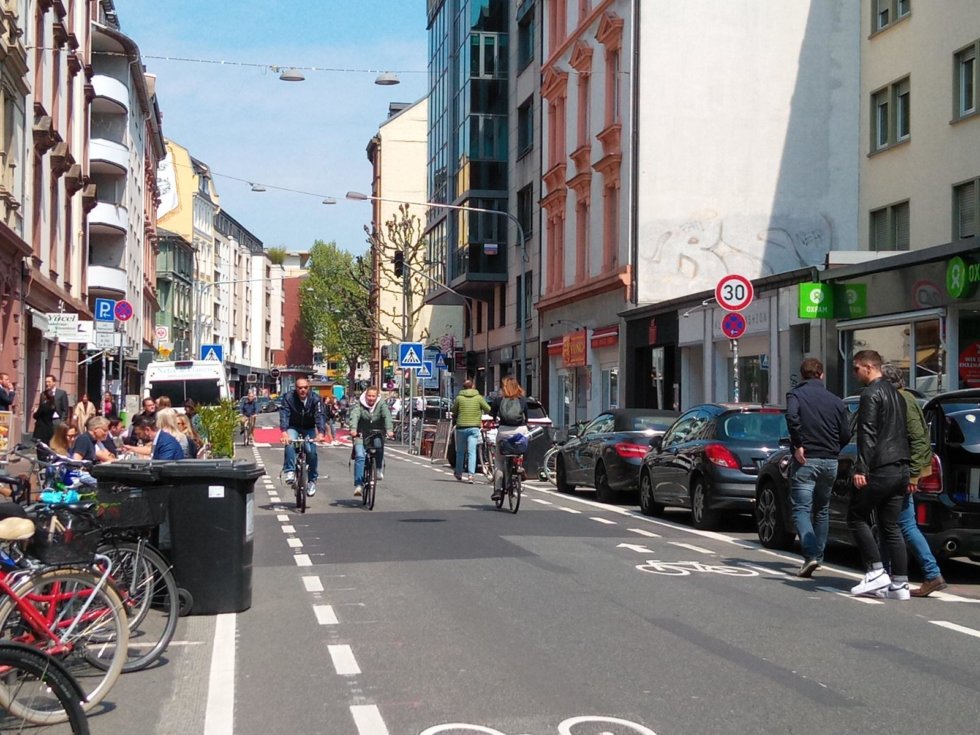 We are seeing the same debate right now concerning Robert-Mayer-Straße and Kettenhofweg (Ortsbeirat 2, Bockenheim). The discussions and arguments are very similar, and the battle lines are essentially the same. We hope and expect that Oeder Weg will prove itself over the summer and residents, customers, and shopkeepers realize the potential of a redesign. The experiences gained on Oeder Weg can be translated to Robert-Mayer-Straße and Kettenhofweg.
Oeder Weg can be a model for many other Frankfurt high streets. Discussions are already going on about Berger Straße and Leipziger Straße (e.g. a car-free Leipziger Straße). For Schweizer Straße, the municipality is planning an architectural competition, which will include ideas from the "Frankfurter Fahrradstraße". In addition to that, many other streets in Frankfurt could benefit from such a redesign.